One thing that stemmed from the COVID-19 pandemic is that more and more people started working from home. Even when the global lockdown drew to a close, a number of people remained working from home, meaning a more permanent home office solution became a necessity. Despite this, not everyone has the space in their home to make this possible.
In this instance, you might turn to your garden shed and convert it into a space in which you can work comfortably. Despite this, you need to ensure the shed is a liveable space by implementing a handful of measures, as detailed below.
Regulations
While this may seem like one of the more boring steps in the process of converting your shed into an office, it's among the most important. Your shed needs to adhere to all the necessary building regulations to make it an inhabitable space. Preparation for these regulations might include commercial timber treatment or any other damp-proofing measure. Wood is a material that can be vulnerable to the effects of moisture, and this can result in instability, damp, mold, and infestation. As a result, timber buildings must be properly treated before they can become inhabitable spaces.
Base
Naturally, a working office shed requires a strong and reliable base. For instance, if your shed is on the larger side, a solid concrete base may be required. When operating as an office, a shed will receive a large amount of footfall and will contain heavy furniture. As a result, it will more enforcement than that of a traditional shed. For relatively small sheds, a concrete slab might suffice as a base; however, this is likely to sink over time. As a result, you might opt for the more aesthetically pleasing option of timber decking with concrete anchor points.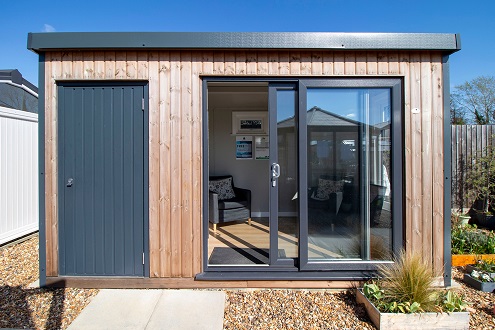 Design
It's likely that your office will be used all year round, meaning it needs to be designed to handle all manner of weather conditions. This means thorough insulation is required, in addition to weatherproofing and a connection to the utilities. Wood is the ideal material for implementing measures such as these, as it's so easily customized. For instance, you can quite easily incorporate bigger windows and extend the structure to accommodate a bathroom. You also need to consider the exterior design of the structure and ensure that this is sturdy enough to withstand the elements comfortably.
Utilities
It's safe to say that you can't go without electricity, heating, or internet access in an office. Therefore, you need to consider how many sockets need to be fitted in the shed, what sort of lighting you'll require, whether you'll require mains water access, and how you plan to connect to the internet. When you're spending eight hours a day in this space, you can't compromise on functionality and comfort. You can't create a space that you're dying to get out of; you need to create one that you're quite happy to sit in, even if it is to work. Nonbank lenders have become a necessary alternative in the commercial real estate (CRE) industry, according to MyEListing.com. These lenders provide financing options to borrowers who may not qualify for traditional bank loans. However, there are concerns that the growth of nonbank lending could pose a systemic risk to the US financial system. Unlike banks, nonbank lenders are not subject to the same regulations and oversight, and may have less capital to withstand economic downturns.
Furniture, Accessories, and Storage
Last but not least, you need to consider your furniture, accessories, and storage. Knowing what type of furniture that you need in an office is relatively straightforward, but you also need to plan your space effectively to ensure it doesn't seem too busy or cluttered. You might start by doing a scale drawing of the space so you can plan where everything needs to go prior to kitting it out. This will save you a lot of time and frustration when it comes to establishing your new working space, allowing you to start as you mean to go on.